Brian Kooman
from McCoy's Public House
Posted: 09/5/2013


BIO:

Growing up in Rhode Island, good food was everywhere in Brian Kooman's home. Long winters, cold springs and short summers created plenty of opportunities for Brian to learn his way around the kitchen and a passion for cooking and creative meal preparation was born.
Brian was already showing his culinary inclination at an early age when he surprised his parents by his sophisticated ordering when they dined out. By the age of 15, he had developed a full-fledge passion for good food and thought that he might want to study culinary arts.
Growing in intensity as Brian headed off to college at the University of Minnesota, his kitchen skills were quickly recognized by the fraternity brothers and the evenings when Brian cooked, the table had more people gathered around than Grandma's at Thanksgiving.
With the continuing encouragement of his friends, Brian started to think that his future wouldn't be in books but rather in pots, pans, herbs and spices. With their help and encouragement, Brian dropped out of U of M early and became a line cook at a local restaurant.
It's a decision he has not regretted and he has never looked back.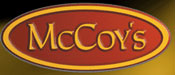 PHILOSOPHY:

His final stop before becoming Chef at McCoy's Public House was Muffuletta in the Park. Where he impressed the Chef who hired Brian on the spot as Sous Chef — that coveted second-in-command position that chefs sometimes work for years to land.
Brian and his sous chef Anthony supervise 15 employees. He considers his employees to be an extended family of sorts and the few hours down-time which they share often finds them spending time together and just hanging out.
He has no plans on leaving cooking because, as Brian says, the people you meet "…in the industry are the most friendly and diverse people…" he has ever met.
Brian sees a bright future ahead. Among his future plans for McCoy's is to "…challenge the dining public…" by continuing to make creative and great tasting food.
Under Brian's leadership in the kitchen, McCoy's menu features innovative appetizers, freshly-made salads, brick oven pizzas, gourmet burgers, sandwiches and classic American comfort food made with a creative twist.
Brian has especially enjoyed creating food with beer pairings and has two coming up this year at McCoy's Public House where he has been the Chef now for two months. You need to start set aside October 24 and December 5 on your calendar, because when word gets out, well, you know what that means.
Brian says, that beer "…is as versatile as it is diverse; it provides both a complementary and a contrasting dining experience when paired with the right food."
A general rule that Brian shares with patrons when discussing food and beer pairings is to keep sweet with sweet and tart with tart.
"Try to keep the beer sweeter or tarter than the sweet or tart food on the plate," Brian instructs. However, being a great chef, Brian does make exceptions such as pairing drier robust beers with sweet chocolates.
"Throw all of the rules out the window," Brian says. "Experiment with contrasting and complimentary pairings. Match foods with complimentary flavors or try contrasting them and create a slew of unique results."