Ernesto Figuera
from Great Waters Brewing Company
Spiced Shrimp
Posted: 01/7/2014
INGREDIENTS:

•1/4 cup extra virgin olive oil
•3 larges cloves garlic, minced
•1 tsp red pepper flakes
•1 lb shrimp, 25 ct to a pound, deveined, shelled and cleaned (or fewer count for jumbo shrimp)
•1 tsp Spanish paprika (Pimenton)
•1 tbsp Sazon Goya seasoning
•Fresh ground black pepper, to taste
•1/2 cup dry white wine
•1 lemon, cut in wedges (for juice, extra for garnish)
•Fresh parsley, chopped, for garnish
•1 sliced baguette, for dippin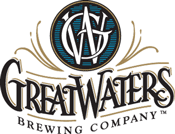 INSTRUCTIONS:

Warm the olive oil over medium-low heat in a saute pan. Add garlic and red pepper flakes and saute for about 1 minute, being careful not to burn garlic. If garlic starts to brown to quickly, lower heat or take saute pan off stove and cook garlic in pan with a swirling motion.
Raise the heat to medium-high and add shrimp, paprika, Sazon Goya seasoning, pepper, wine and lemon juice. Saute for about 3 or 4 minutes until shrimp turn pink and curl.
Remove from the heat and serve shrimp with the sauce in individual bowls or straight from the saute pan. Garnish with parsley, extra lemon juice and black pepper. Serve with baguette for dipping in the sauce (toasted or plain) and a glass of dry white or spicy red Spanish wine.
Serves four as an appetizer. Double the recipe for a main course or to serve eight.
Cook Time: 20 minutes